Roslyn Hideaways
Just 75 miles West of the major metropolitan area of Seattle, up and over the Cascade Mountains at Snoqualmie Pass, is a rich and beautiful area of Kittitas County. A stunning combination of evergreen trees and golden meadows, the towns of Roslyn and Cle Elum have become a recreational magnet for residents of the greener West Side of Washington State.
There are activities galore in the area from downhill, cross country skiing, snow shoeing and snow mobiling in winter to hiking, biking and horse back riding in summer. Fishing is a big attraction on the world famous Yakima River and in lakes and ponds in the area.
The biggest town is Cle Elum which is a cross road for major highways going East-West and to the North. From here you can travel to Seattle, Spoken or up to Wenatchee, Leavenworth and Lake Chelan. The climate is a wonder. Cold in winter with plenty of bright blue skies. Hot and airing in summer causing outdoor adventure to attract visitors from all over.
Roslyn and Cle Elum Lodges and Cabins:
Luxurious Homes and Cabins.
Room to spread out with family & friends
Great locations
Easy to find, with easy free parking
Enjoy all Cascade Mountains have to offer year round
Comfortable furniture & furnishings
Fully furnished with linens, towels & blankets
Full kitchens complete with pots, pans & utensils
Many with Hot Tubs and High Speed Internet
Staying in a private vacation rental home beats a small hotel room everytime. You'll have more fun and feel more at home. Roslyn Hideaways offers quality homes, in great locations and plenty of personal service. Call today to get the best selection.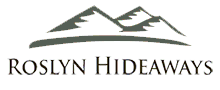 Address: Cle Elum, WA 98922 USA
Hours: Phones 9am-7pm Everyday
Phone: 509-396-6650
Fax: 888-628-0839
Email:
Website: RoslynHideaways.com
Call us: 360-289-2430